Welcome
It is a great honour to be the Headteacher of King Ecgbert School. The school is a welcoming, purposeful and highly successful place where students are valued individuals.

Paul Haigh, Headteacher
My role is to ensure we continue to be passionately committed to fostering and developing their academic excellence, high aspirations and respectful values. They are encouraged to thrive in all areas of learning in the classroom and beyond.
The school is recognised for its high attainment. Examination results are outstanding with the progress all children are making right across the curriculum being better than most outstanding schools nationally, but the young people leave the school with so much more than great exam results. Our motivation is to provide a curriculum that ensures the children we educate have real experiences and are instilled with good values. If King Ecgbert students leave school and grow into well-rounded young adults, who are in a position to do nothing less than contribute to making the world a better place, then we have done our job.
Due to the Covid-19 pandemic, nationally the exam results in 2021 were based on our teachers' assessments and judgements. We were proud to be able to justify a continuation of our very strong and upward trending results, meaning our students were awarded excellent qualifications that have enabled them to progress to the next stage in life. The school has been commended by parents, students and those in the educational community for the way it has provided care and continuation of learning through the crisis. New parents should be assured that in these uncertain times your children are in expert hands when you entrust them to King Egbert School.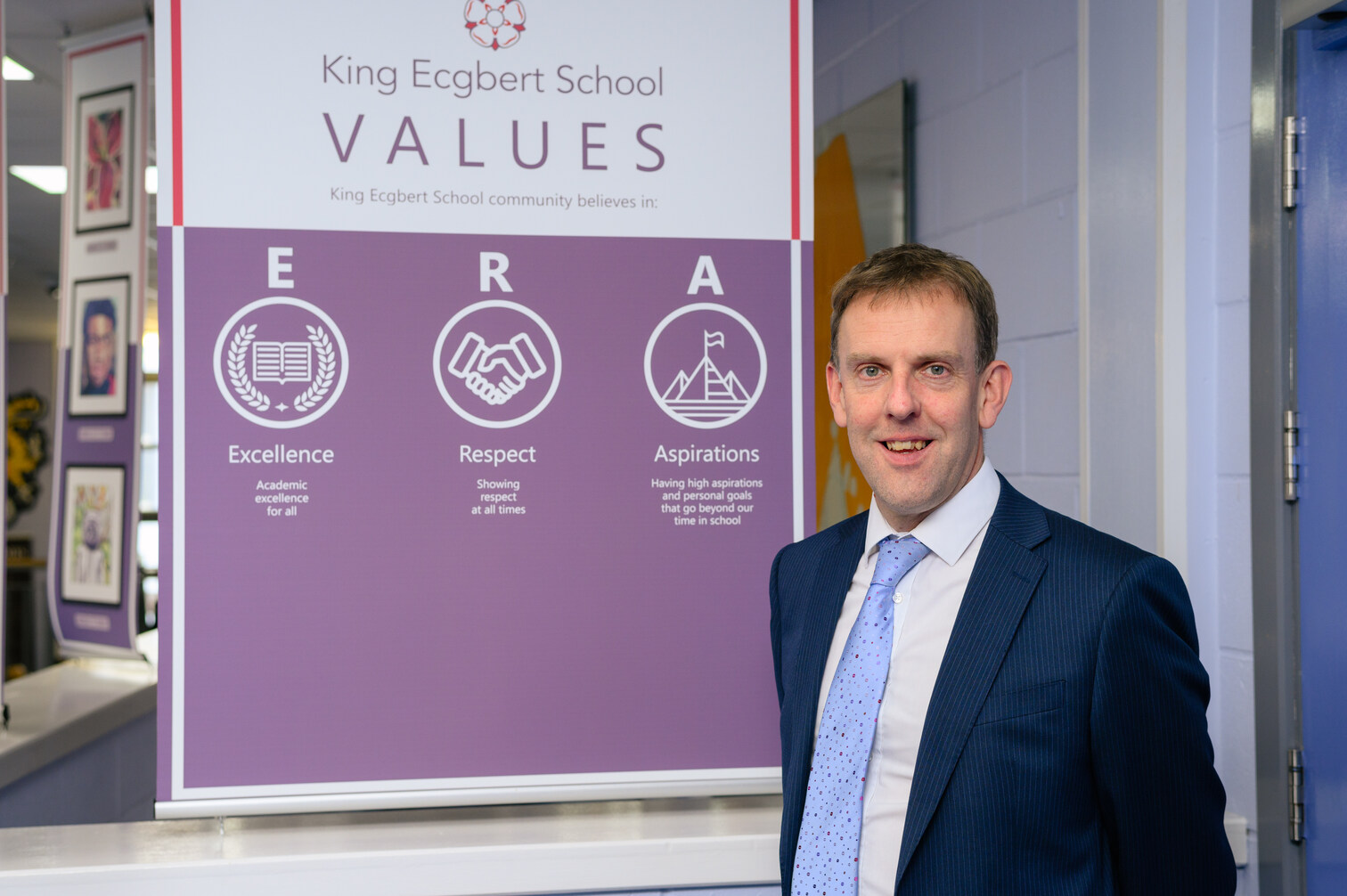 This website is designed to give you all the information you may need, regardless of whether you are a current student, parent or member of staff or if you are a prospective parent, student or prospective member of our school staff. We are particularly proud of the care and guidance we provide for all of our students, including the most academically gifted who win places at Oxbridge and those who have significant additional needs.
Our expectations for every child and young person are high; excellence and enjoyment are at the heart of all we do. By choosing King Ecgbert School as a place of study for your child, for sixth form or for a place of work, you are committing yourself to our caring and aspirational school.
If you have any suggestions or feedback regarding our website or indeed our school, please do not hesitate to get in touch.
Paul Haigh
Headteacher